The Importance of User-Generated Content (UGC) and Listening to the Customer
The value and impact of UGC are clear and global enterprises need to learn to leverage it across the world. This article provides an overview of the issues around making UGC global and the technology available to address it at scale.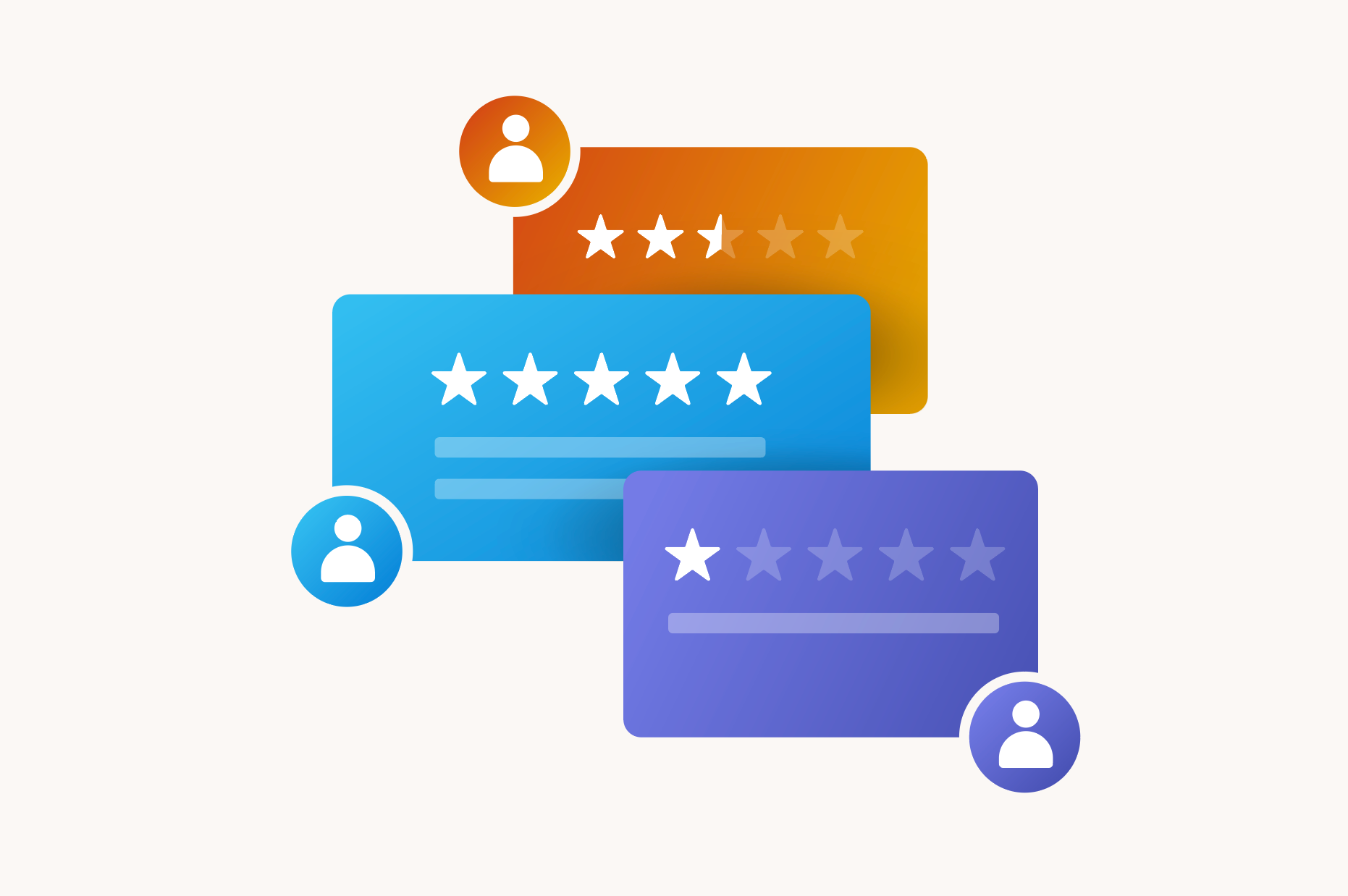 As the importance of establishing an ever-expanding digital corporate presence to build, enhance, and improve the customer experience for both B2C and B2B customers has gained momentum, companies are realizing the growing importance of what is known as User Generated Content (UGC).
Consumers trust authentic, unpaid recommendations from real customers more than any other type of content.
UGC consists of content such as text, videos, images, and reviews that are generated by real customers, influencers, and independent individuals rather than by the brands themselves. It is important to note that any modifications made to this content should only aim to enhance clarity, conciseness, or formality without altering the original message or quotes. This content focuses on customer experiences, such as reviews, testimonials, case studies, guest posts, comments in online communities and forums, collaborative webinars, podcasts, hosted events, social media posts, and PR campaigns, as well as partner, distributor, and vendor promotions can be utilized in numerous ways to educate both new and current customers about the potential brand experience.
UGC is clear evidence of direct customer feedback, often unsolicited. It is the voice of the customer in its purest form. The value and impact of UGC are even greater in eCommerce settings where this content is widely understood to be a primary driver for conversions and purchase motivation.
In the B2B context, UGC is more than just reviews and case studies, and should be considered to be "any content others create related to your business".
UGC is important in modern digital marketing for many reasons, as summarized below:
Authenticity: UGC is a more authentic and experiential form of content than corporate content because it is created by customers, free from artificial embellishments or supervision by brands. Consumers tend to trust UGC more than traditional advertising, and it serves as a contemporary variation of word-of-mouth marketing, a force that has always played a significant role in influencing consumer purchasing decisions.
Social Proof: UGC offers social proof that impacts the buyer's journey. It builds consumer confidence and is an extremely efficient strategy for a brand to influence its audience and convert them into customers. In simpler terms, social proof is the equivalent of a reference in a B2B setting or someone else's stamp of approval. UGC also facilitates community-building, which can result in greater loyalty and advocacy.
Unlimited Authentic and Unfiltered Content: UGC offers brands unrestricted, genuine, and unedited content to improve brand awareness and strengthen brand reputation. Brands that implement UGC show their willingness to engage in a two-way discussion, fostering more trusted and engaged relationships with consumers.
Cost-Effective: Generating marketing content can be a time-consuming and expensive process for an enterprise, which is why UGC is quickly becoming a critical component of digital marketing campaigns.
Increased Engagement and conversions: User engagement increases due to user-generated content, which is directly correlated with conversions. User-generated content validates and legitimizes your marketing message, leading to an increased likelihood of user conversion and higher sales.
While some marketers still believe that branded content is more trustworthy or preferable to user-generated content, research suggests otherwise. Customers consider authentic user-generated content (UGC) the most trustworthy content in both B2C and B2B contexts.

UGC has many benefits for businesses. Authentic and uncensored content can establish trust and credibility, as customers are more likely to believe and engage with content from peers and independent observers than from the brand itself. Today, most customers are cautious of claims of superiority made by brands and actively seek information from like-minded customers and independent observers to better understand the product or service during the buyer and customer journey.

Additionally, it is a cost-effective way for a business to create trusted content that can favorably influence engagement and build stronger relationships with customers at various stages in the buyer and customer journeys.
Furthermore, UGC provides valuable insights into customers' experiences and perspectives and enables the enterprise to engage with customers more deeply and effectively. Statistics show that consumers find UGC 9.8x more impactful than influencer content, and 79% of people say UGC highly impacts their purchasing decisions. Some of the most recent research also confirms that consumers rank authentic UGC as the most trustworthy content in their buyer journey.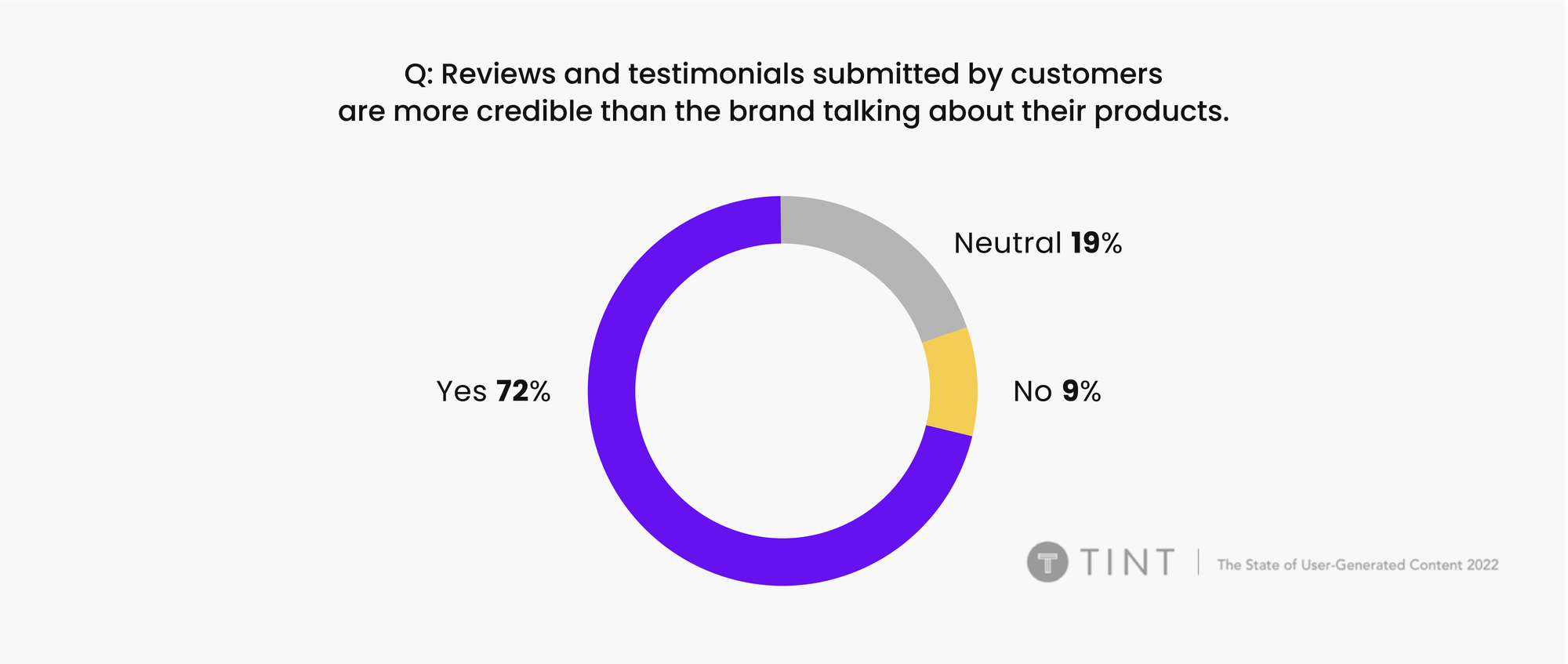 Here are some recent statistics from reputable sources on the value and impact of UGC:
64% of consumers agree that when a brand they like and use re-shares content by customers, they are more likely to share content about the brand or its products.
76% of consumers have purchased a product because of someone else's recommendation before.
72% of consumers believe that reviews and testimonials submitted by customers are more credible than the brand talking about their products.
A study by Bazaarvoice showed that websites with UGC can see an increase of 29% in web conversions, a 20% increase in return visitors, and a 90% increase in time spent on-site.
Research by BrightLocal indicated that 79.69% of consumers look at ratings and reviews before making a purchase.
6 in 10 marketers report that their audience engages more with UGC in marketing and communications channels than branded content.
75.78% of consumers have used social media to search for or discover products, brands, and experiences.
Three-quarters or more of travelers were active on at least one social media platform in 2019.
Cost-per-click has been seen to decrease by 50% with the addition of user-generated content in social media ads.
The majority of millennials, 66%, book their travel trips using their smartphone. A higher majority, 74%, said that they use their smartphone for research related to their travels. Again the most trusted content tends to be UGC and peer commentary on travel experience.
These statistics show that User Generated Content (UGC) is a valuable tool for marketers to establish trust, engagement, and loyalty with their audiences. Engaging with UGC helps marketers listen to their customers, understand their needs, and collaborate with them as co-marketers to create more compelling content. This engagement strategy enables marketers to attract new customers, foster brand loyalty, and increase customer satisfaction.
However, research indicates that many businesses still struggle to comprehend, utilize, and harness the potential of fast-moving, high-impact UGC content. Furthermore, most marketing organizations remain focused on developing and disseminating brand messages, rather than actively monitoring and engaging with the ongoing stream of customer feedback across social media and the internet.
The Translation Challenge & Perspective
As can be expected, the volume of user-generated data is constantly increasing in the modern era, and the challenge for the modern enterprise is to track it in all its most relevant variants and to set up translation production processes for the most important and relevant content.
According to World Economic Forum estimations, by 2025, the amount of data created by humans each day will be about 463 exabytes (one exabyte is equal to one billion gigabytes). As of 2021, we produce over 500 million tweets, ~300 billion emails, and 4 million gigabytes of Facebook data every single day.
While this data has primarily focused on G7 economies in the past, it is expected to shift significantly as economic growth continues to surge in the Global South and South Asia over the next two decades. As a result, global business leaders must master the skills to listen, share, communicate, translate, and comprehend various content streams in an expanding array of languages. The languages that hold the utmost relevance at present may not retain the same level of significance in the upcoming decades.
This will require that leading global businesses will enable and be capable of being multilingual along all of the following content dimensions:
Social Media Content: As social media grows into a better search engine, it's up to marketers to create searchable content. Many buyers request user-generated content along their buying journey and this should be easily accessible as they peruse and investigate your site. Here are some examples of B2B use of social media as a digital marketing channel.
Multilingual Email Content: Personalized email content that enables quick and effortless retrieval of User Generated Content (UGC) and reviews, and prompts customers to share their feedback for future content development.
Digital Advertising: There is a clear trend towards more video/audio content, along with a strong preference for access to genuine user-generated reviews, forums, and discussions.
Web Content: Customers crave reviews from others with similar needs. The inclusion of visual reviews on your website and product pages, in addition to user-generated content, can create the feedback loop necessary to satisfy your audience's desires.
Brand Content: Branded content mixed with relevant and specific user-generated content addressing evaluation issues raised by many customers is crucial. However, numerous consumers only consult it after they have already satisfied themselves with other customer opinion data. While consumers often consult other customer opinions before turning to UGC, buyers are 4-6 times more likely to purchase from purpose-driven companies that they advocate for through UGC and word-of-mouth referrals. Moreover, the addition of UGC in social media ads has been shown to decrease cost-per-click by 50%. 6 out of 10 marketers report that their audience more frequently engages with user-generated content (UGC) in marketing and communications channels than with branded content.
The truth is that today, the #1 marketing channel used by most companies is social media and the brand's website is the second most used marketing channel, especially in B2C settings.
Measuring the success of a UGC campaign involves tracking key performance indicators (KPIs) that align with overall business goals. These can vary by language and can thus help to identify the most and least receptive markets. Here are some KPIs and metrics to consider when evaluating the success of a UGC campaign:
Engagement Metrics: Monitor likes, comments, shares, and clicks to understand the impact of UGC on audience engagement.
Reach and Impressions: Measure the number of people who see your UGC and the total number of times it's displayed.
UGC Volume: Track the total number of user-generated posts, reviews, or other content forms associated with your brand.
Conversion Rates: Analyze how UGC influences customer behavior, such as driving traffic to your website, increasing sales, or prompting sign-ups for newsletters.
Content Performance Metrics: Track metrics tied to specific goals, pieces of content, or distribution channels, such as impressions, reach, engagement, clicks, conversions, sales, revenue, or customer loyalty.
ROI Calculation: Consider factors like content creation costs, revenue spent on paid social ads, the value of your visual content library, cost per click (CPC), and overall conversions when calculating the ROI of your UGC campaign
To be able to participate effectively in the global market an enterprise will need not only the most streamlined and efficient translation production capabilities but also have infrastructure and processes that continually improve and adapts to changing customer requirements.
This is precisely the solution that has been developed by Translated for any global enterprise to be able to undertake this content deluge challenge successfully. This is a solution and a technology that has been developed in close collaboration with clients who have focused on serving customers who have expressed a preference for having multilingual content access at scale, particularly for more dynamic real-time UGC which inform evaluation and purchase decisions.
Unveiling Hyper Adaptive ModernMT

Translated recently announced a new model of ModernMT, its adaptive machine translation (MT) system. The new model, called Hyper Adaptive, enables companies to translate billions of words at ultra-fast speeds without compromising quality. It is domain-specific and designed for use cases such as translating user-generated content, datasets for multilingual large language models, and web content for data mining activities.
In recent years, companies have approached Translated with requests to leverage the accuracy of ModernMT's adaptive MT system to quickly translate specialized, unique content and high volumes of ongoing content. While a generic adaptive MT model can handle the request to some extent, it is not designed to translate millions of words per minute in a specific domain.
Hyper Adaptive solves this issue by using sophisticated compression techniques and training the MT model for specific use cases based on the customer's previous translations and translation memories (TMs) to ensure high-quality performance even at a scale of many billions of words a month.
The resulting highly specialized MT model is much smaller and more efficient than a generic adaptive model and can process content at ultra-fast speeds, in as little as 50ms for a typical sentence. An example to clarify the performance capability at Translated's dedicated data centers: it can translate the entire English Wikipedia (4.4 billion words) into another language in less than a day (3 million words per minute). By training directly using customer data, the Hyper Adaptive model achieves translation accuracy equal to or better than state-of-the-art custom adaptive MT models.
Often, when very high throughput is required, MT systems will need to make compromises on output quality. Typically there is a trade-off between quality and throughput. In contrast, this solution helps companies maintain high quality even when translating massive volumes of content at ultra-high speeds.
In some specific use cases, such as dynamically changing user-generated content, combining the dynamically learning adaptive MT model with ongoing professional translator corrective feedback can further improve the quality of the MT output over time. Even though the model is optimized throughput speed, the model is still adaptive, and thus, it continues to improve after initial training through ongoing corrective feedback and the addition of new TMs delivered to match the company's style.
As the demand for agile global enterprises scales to translating billions of words a month, solutions like Hyper Adaptive ModernMT allow continuous improvement daily yet can easily translate billions of words of relevant UGC into over 200 languages every day.
We designed the Hyper Adaptive model to enable the translation of content that has never been translated before. Its language coverage allows companies to reach over 99% of the world's population in their own language. Hyper Adaptive is one more step towards global understanding.
Marco Trombetti – Translated CEO
Integration and Costs
Like all other ModernMT models, the Hyper Adaptive model can be integrated into the translation workflow via API. Costs vary depending on the use case, the amount of data to be translated, and the amount and quality of existing translations and TMs. Existing Translated customers can contact their account manager to get a new service quote.
Thanks to the Hyper Adaptive model, user-generated content on Airbnb has reached an unprecedented level of quality, greatly improving the experience for our user base. The real-time, high-quality translation of UGC has helped Airbnb foster a stronger sense of community among our hosts and guests, which has had a tremendous impact on our business.
Salvo Giammarresi – Head of Localization at Airbnb
---
‌‌

‌
ModernMT is a product by Translated.