ModernMT Expands Language Coverage to 200 Languages
The expansion of language coverage of developing economies will enable the enterprise to better address and connect with fast-growing emerging market opportunities. These are the most important commercial languages for the coming decades.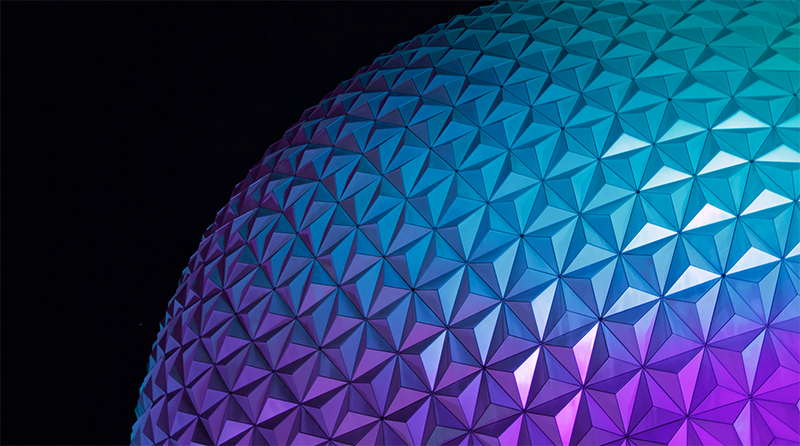 Translated recently announced that, ModernMT, now supports 200 languages, setting a new benchmark in the industry. No other commercial MT service currently supports such an extensive range of languages. By expanding its language coverage to a potential reach of 6.5 billion people, Translated enhances the ability of enterprises to create stronger connections with their users and customers worldwide, fostering better communication and understanding of a larger global customer base.
In the modern era, we are rapidly moving to a world where a global enterprise needs to expand the scope and nature of its communication and information sharing with the modern digital customer. There is a relationship between content strategy, e-commerce, and MT, as much of this new content that enhances the customer experience is constantly changing, and there is great value in making it multilingual to enable engagement with a broader global customer base.
The modern digital-first customer demands and expects much more relevant information from every organization they interact with. The lack of needed information can easily trigger a potential customer to walk away from a brand and company, that may otherwise be a very good fit in terms of matching customer needs to available product offerings. We know that today:
The modern buyer and customer journey has many digital touchpoints.
Global-savvy companies are increasingly moving to a business model focused on customer needs, attempting to serve as much information as needed to improve the global customer experience.
Companies are translating everything that might be useful to a customer, not just what is mandated by local commercial regulations.
So, what are some of the things that are required of a globally focused business to be successful with an ever-growing global customer base?
The list of actions recommended by globalization consultants on best practices for providing relevant information to the modern digital-first customer includes all of the following actions:
Personalize communication and content to their interests and needs
Provide easy access to information through self-service portals and knowledge bases
Utilize chatbots and AI technology to provide instant and accurate answers to common questions
Collect customer feedback to continuously improve and adjust information and communication strategies
Offer various communication channels to cater to different preferences, such as email, phone, social media, and messaging apps.
A  global enterprise can immediately establish a comprehensive digital presence in international markets if they solve the translation challenge and make relevant content multilingual at scale. The notion of digital-first applies both to the global enterprise and the global customer. Digital-first also means that it is much easier for a company to start engaging with a global customer base. A digital-first globalization strategy allows the enterprise to expand rapidly and be customer-centric across the world.
Never has it been more important for a company to translate its content into many different languages to quickly establish a relationship with global customers. The sheer volume and broad scope of the task require that the translation challenge needs to be handled in a way that is efficient, streamlined, and scalable.
To achieve a comprehensive digital presence, a global enterprise needs to focus on solving the translation challenge and making all relevant content multilingual rather than trying to minimize the translated content volume.
The modern era requirement in the digital age is to "translate everything".
This will require an adaptive MT technology that is continuously learning and improving, to enable the enterprise to engage with the people of emerging economies around the world.  

The Changing Customer Requirements
The primary motivation for translating enterprise content is to enable and drive international revenue. Translation of all relevant content is necessary for building an international business. While the translation tasks related to the product packaging and basic instructions for the use of a product are mandated, there is now a growing need for translating more dynamic content that is a combination of both unstructured internal corporate content and external non-corporate content such as user impressions, reviews, and feedback from social media and influencers on the customer experience related to the product offerings of a company.
The digital landscape and audience of the 21st century present a challenging environment for modern global enterprises.
Most internet users do not search for products, but rather they seek answers to questions. If an enterprise can provide useful answers, potential customers may develop trust and possibly become advocates and product champions.
If the enterprise can help a customer understand, and educate them on the general subject domain, not just specific product-related subject matter, potential customers may begin to trust your corporate content, and if you can provide a good customer experience after they buy your product, they may even advocate using your products.
Generally, no potential customer is searching and hoping to find a website that is merely a corporate ad, filled with self-congratulating content on how great the company thinks it is and how wonderful it thinks its products are.
Unfortunately, this kind of crap content is still common on many corporate websites which are filled with marketing-speak. Social media technologies have facilitated an ongoing, real-time dialogue that has reversed the traditional direction of conversations between brands and their customers.
Consumers are now leading the conversation and brands need to listen.
Trusted, authentic user-generated content (UGC) has a significant influence on purchasing decisions, especially in online marketplaces.
New buyers trust the shared authentic experience of other real customers more than any slick pitch created by the corporation.
Customers want to know what does not work well, as much as what does, BEFORE they buy.
Marketing-speak refers to the use of clichés, buzzwords, and empty superlatives in marketing content. It is typically self-congratulating in tone and is often an abundance of empty assertions of being "the best" without meaningful context and trustworthy references.
Marketing-speak or corporate-speak is often found in press releases, brochures, white papers, and sales letters.
Changing Macroeconomic Trends

The world is also changing both in terms of geographical shifts in international trade opportunities and relative economic power. The relative importance of emerging and developing economies is growing, and any global enterprise wishing to be relevant 10 years from now needs to understand this shift.
World commerce is steadily and unmistakably shifting away from a G7-dominated economic worldview. A closer look at these trends explains why this language expansion initiative is so timely.  
This comparison between the G7 and E7  economies done by Pricewaterhouse Coopers (PwC) for "The World in 2050" study, provides a capsule view of these trends. PwC estimates six of the seven largest economies in the world are projected to be emerging economies in 2050 led by China (1st), India (2nd), and Indonesia (4th).

Over the coming decades, emerging economies will drive global growth. Vietnam, India, and Bangladesh could be three of the fastest-growing larger economies over this period. This growth momentum directly relates to the languages that are growing in importance. By 2050, PwC projects that the G7's share of world GDP will fall to only around 20%, while the E7 will increase their share to almost 50% of global GDP at Purchasing Power Parity (PPPs). This means that the top 10 Indic languages which include Bengali become strategic growth opportunities.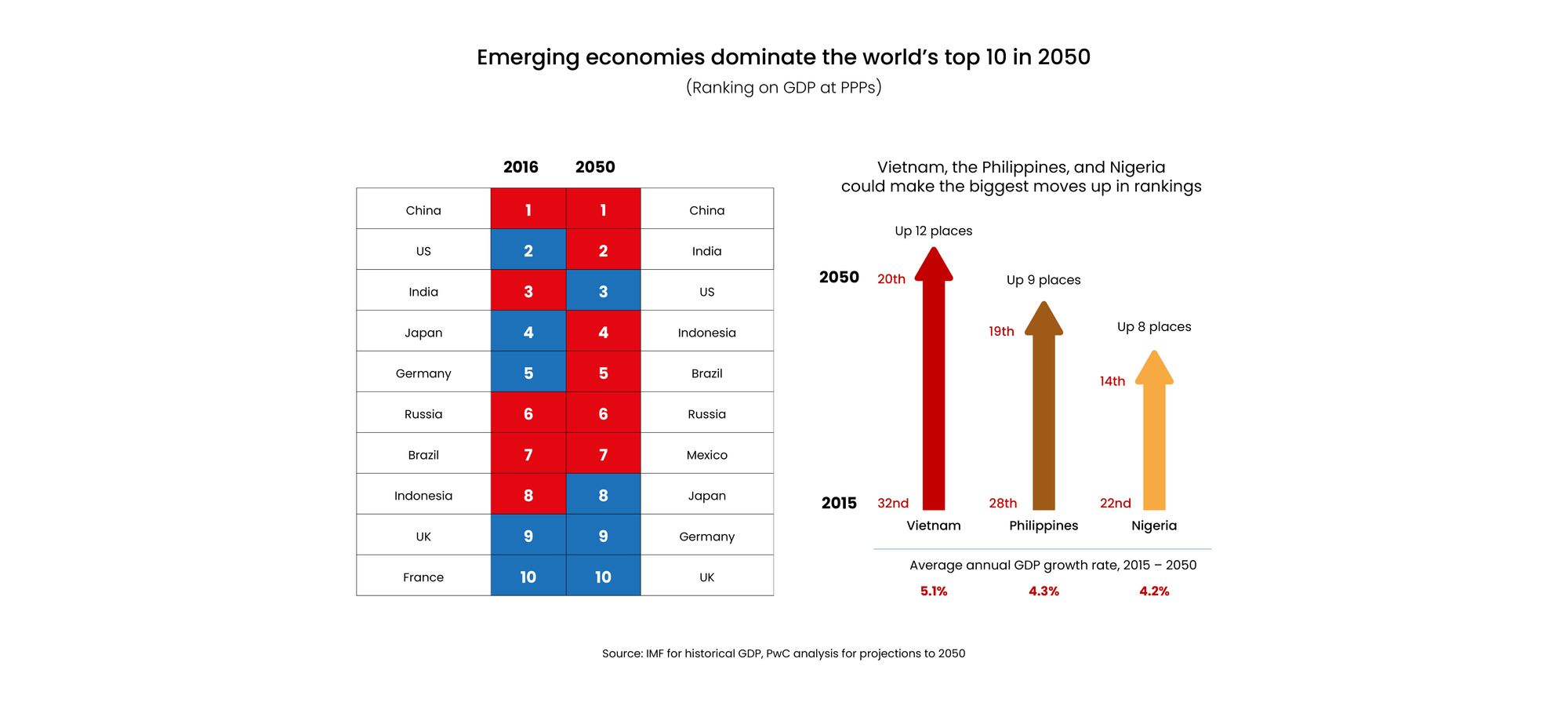 The chart above shows estimates of three of the fastest-growing economies with expected improvements in global rankings. In contrast, three of the fastest-falling countries are Australia (from 19th to 28th), Italy (12th to 21st), and Spain (15th to 26th).
Some other highlights from the PwC "The World in 2050" research include:
The top 15 fastest-growing economies over the next 30 years will all be developing and emerging market economies according to PwC projections
Europe's share of the world economy at PPPs could fall from around 15% to 9% by 2050
Brazil and Mexico could be larger than Japan and Germany by 2050
India could increase its share of world GDP at PPPs by 8% to 15% by 2050
China's share of world GDP at PPPs could increase to around 20% by 2050
Rising incomes in emerging markets will open up great opportunities for businesses with sufficiently flexible and patient strategies for these fast-evolving markets. As the purchasing power of an increasing portion of the population grows in these regions, so will the consumption as we see a rising middle-class emerge.
Other research also points to the rise of Asian economies, especially in South Asia and South East Asia as Chinese GDP growth also starts to slow down as the demographic impact of the One Child policy kicks in over the next two decades.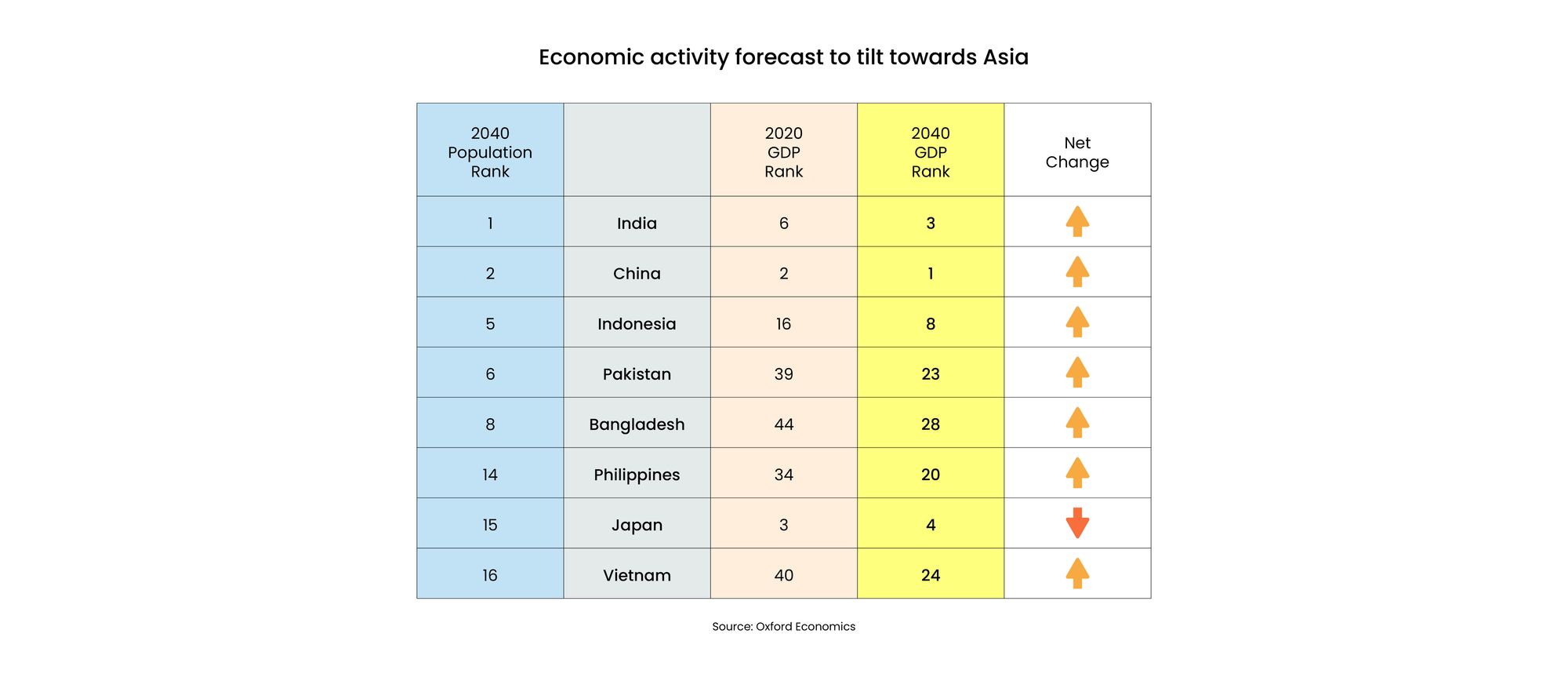 Goldman Sachs was one of the first to point out the emerging rise of the BRIC economies 15 years ago. This forecast has been more accurate for the Asian economies but in their latest research, they expect that growth will be more evenly distributed even though Asian economies will still dominate.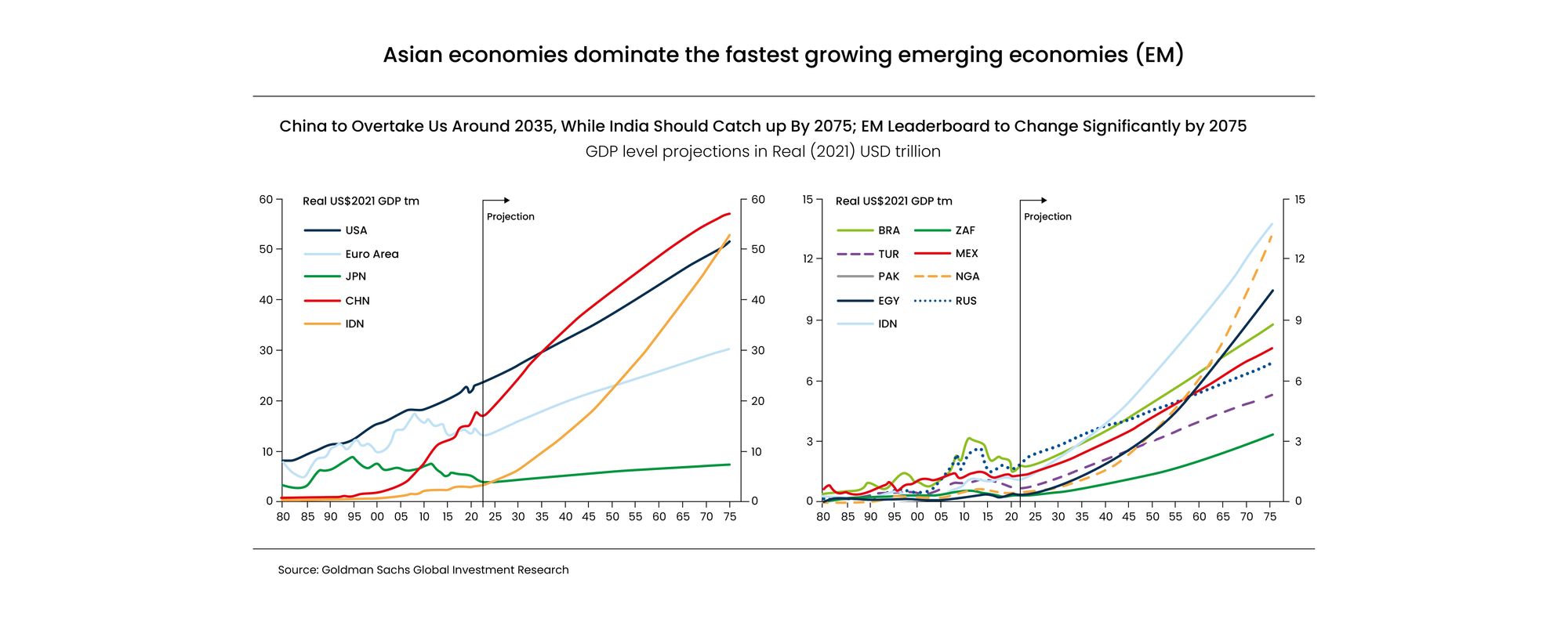 China, Vietnam, Uganda, Indonesia, and India are projected to be among the fastest-growing economies by 2030 according to the Harvard Growth Lab projections. Their research also factors in the ability of the country to develop complex production capabilities and finds that countries that have diversified their production into more complex sectors, like Vietnam and China, are those who will experience the fastest growth in the coming decade.
The Harvard Growth Lab has identified three growth poles using their Economic Complexity Index (ECI) which they believe is a much better predictor of economic growth prospects.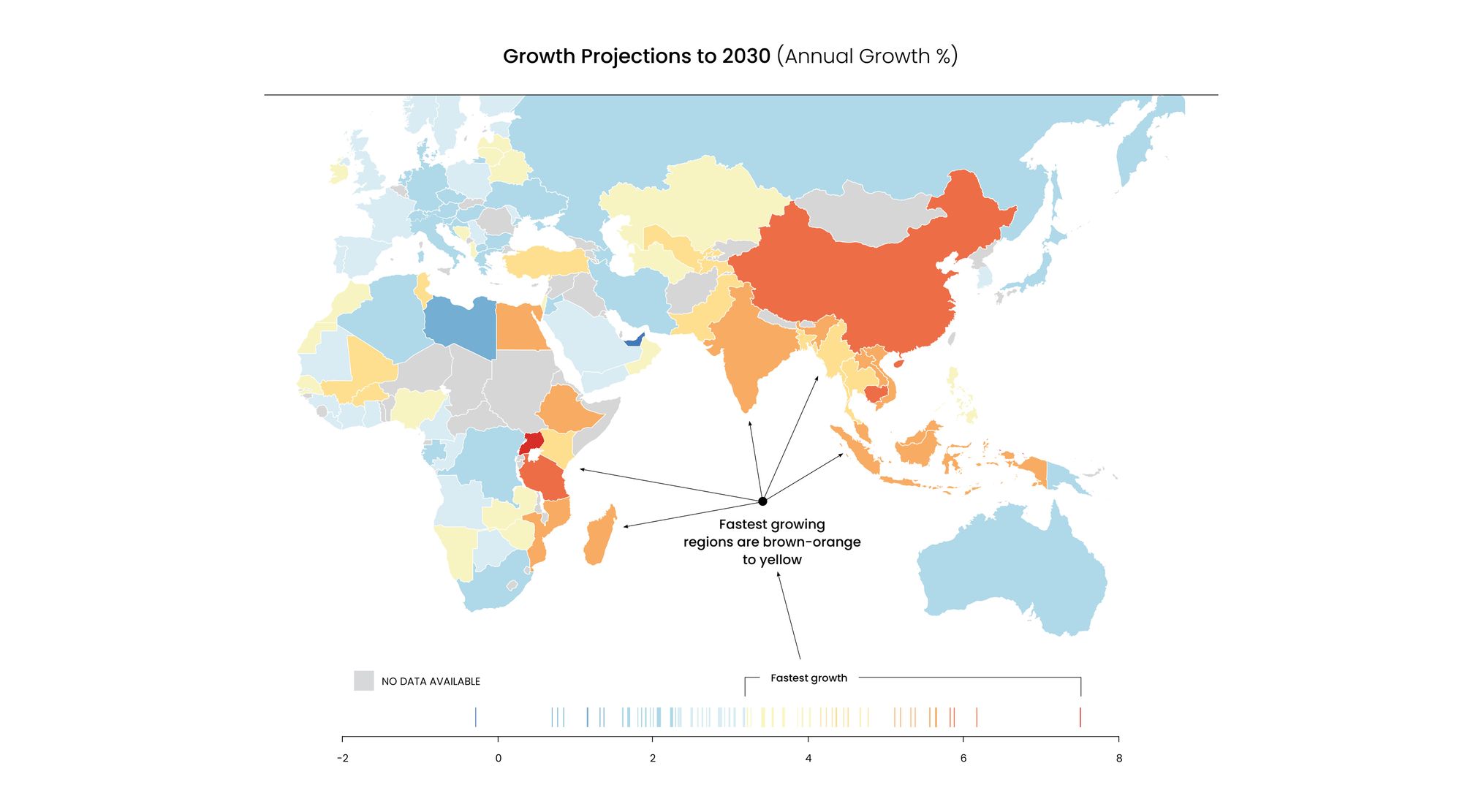 They state that several Asian economies already hold the necessary economic complexity needed to drive the fastest growth over the coming decade, led by China, Cambodia, Vietnam, Indonesia, Malaysia, and India. In East Africa, several economies are expected to experience rapid growth, though this is driven more by population growth than gains in economic complexity, and this includes Uganda, Tanzania, and Mozambique. They also saw several Eastern European countries including Georgia, Lithuania, Belarus, Armenia, Latvia, and Romania ranking high on a per capita basis because of improvements in their ECI.
According to the IMF's recent World Economic Outlook on Africa, five of the world's fastest-growing economies are Angola, Ethiopia, Nigeria, Kenya, and South Africa. However, many experts say that for most of Africa, the business opportunity for global enterprises is further out into the future. Perhaps in the 10-to-20-year time frame as a properly supported (improved infrastructure, education, health services) demographic dividend starts to kick in. However, there are some exceptions as shown in the Growth Lab chart above.
This growth momentum data correlates with macroeconomic business potential, but a global business needs to determine a market opportunity match by including several other factors beyond the possibility that there is a large and growing potential customer base. Apart from product fit and basic organizational infrastructure issues needed to serve global customers across the world, several other macroeconomic factors also need to be considered. These include all of the following:

After this analysis has been done the best-fitting products and services can be presented to the new market. Market viability tests can often be done initially by creating a digital presence and window front to assess interest and better define implementation issues.

It is at this point that the relevant content for the buyer and customer journeys and translation issues come into focus. This is what ModernMT and the service and process infrastructure at Translated are designed to address.
The ModernMT Language Expansion
One of the motivating ideas behind Translated's language expansion efforts is to help our enterprise customers reach more of the world's population. By expanding language coverage to potentially reach 6.5 billion native speakers, Translated enables companies to forge stronger connections with global users and customers by building the core translation infrastructure needed to share, communicate, and listen to new customer groups.
This initial launch and introduction of these new languages is the beginning of an evolutionary process. Translated has ensured that the current quality of MT produced by these new languages is at least equal to or better than systems produced by Big Tech companies, and has added high-quality training data resources when available to immediately improve the performance of "low-resource" languages.
The expectation and plan behind this launch are to enable these language systems to start improving immediately using the highly adaptive ModernMT technology which allows this to happen.
History shows that because of the volume of production work, greater data availability, and ongoing activity around the high-resource languages, those MT systems can reach levels of accuracy where discussions of human-equivalent performance are possible. Thus, we begin this journey with a large set of new languages. In addition to this gradual improvement effort, ongoing fundamental research will continue to increase the rate at which these systems can and will improve.
Digital leadership in emerging markets will require that enterprises translate tens of millions of words a month, to enable them to listen, communicate, understand, and share relevant information with these customers.
For the first time, 30 new languages are supported in the market, leapfrogging directly to the more powerful adaptive MT technology. Among the new languages now supported by ModernMT, are Bengali, Punjabi, and Javanese, which together with all the other newly added languages are spoken by over 2 billion people worldwide. Many of these languages have high commercial potential, enabling companies to connect and engage with some of the fastest-growing economic regions in the world.

In the customer-centric world of the future, it is also important that important tools in the localization technology stack can easily interact and connect to superior continuous learning tools like ModernMT. To further enable this we have also added API connectivity to Blackbird.io which is an Integration Platform as a Service (IPaaS). The inter-application connectivity reach will continue to improve. This will allow ModernMT to ingest data from and export translated data back to a growing set of TMS, CMS, Marketing Automation, CDP, Analytics, QE, and Storage solutions needed in modern CX-related automation deployments.
Unfortunately, many TMS systems of yesteryear still have no ability to interact with fast-evolving adaptive MT systems and trap enterprise data to create tech debt that undermines global success.
Marco Tombetti was interviewed by Multilingual about this announcement, where he explains how data scarcity, and enabling the new languages to function with adaptive MT architecture were the two main challenges that had to be overcome to achieve this.
💡
He also said,
"We envision that this effort is merely the first step, and while 200 languages may appear substantial, it is not an extraordinary figure. We are at the beginning, and we plan to refine adaptive MT support for these languages in the coming months, as well as for numerous others.
"
---

ModernMT is a product by Translated.