Five Transparency Questions for your LSP
Transparency is a critical requirement for any Enterprise engaging a services vendor. High transparency elevates a vendor to a partner with common objectives. As the translation industry changes and evolves we see a new trend, the emergence of the Language Partner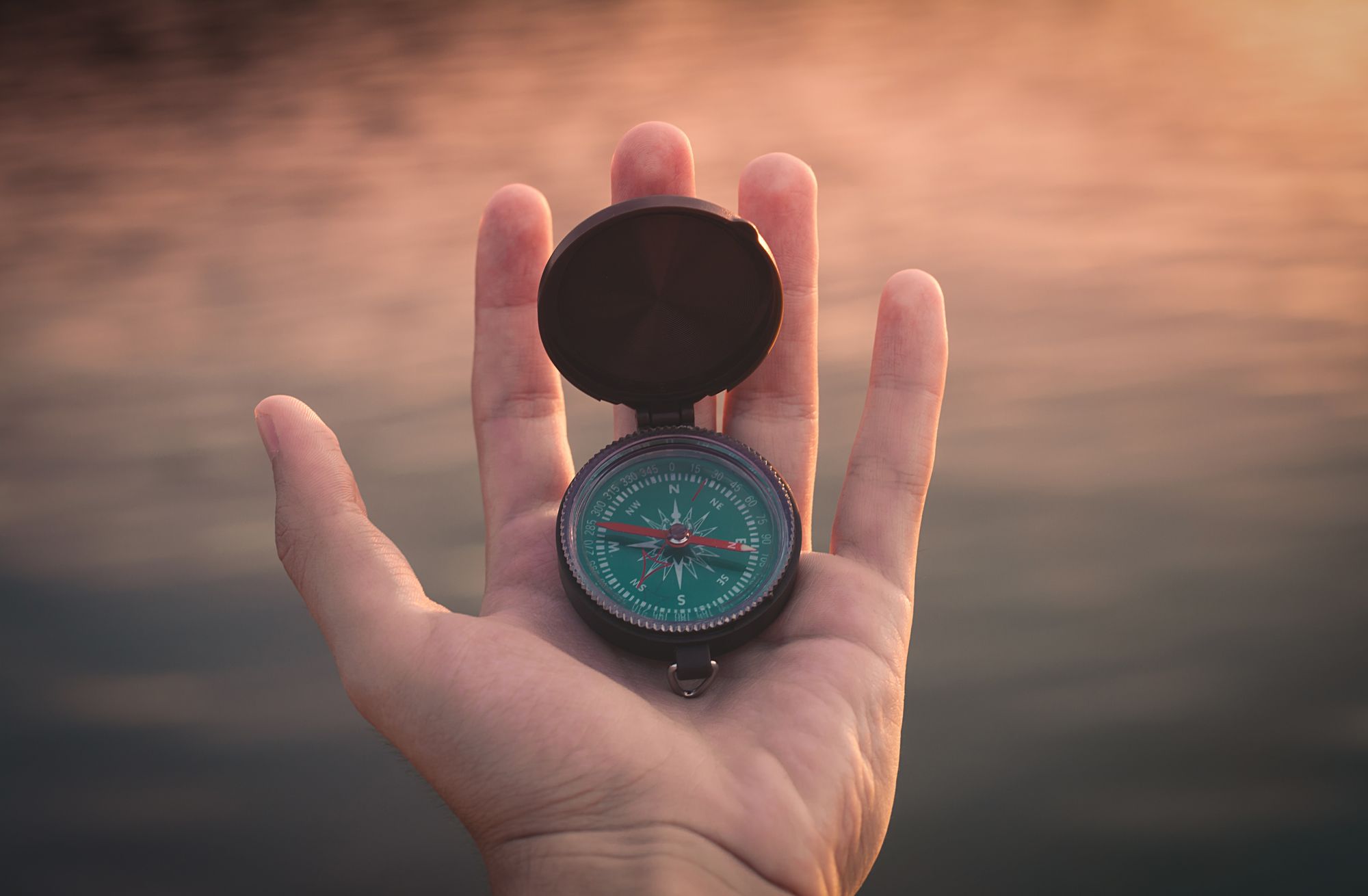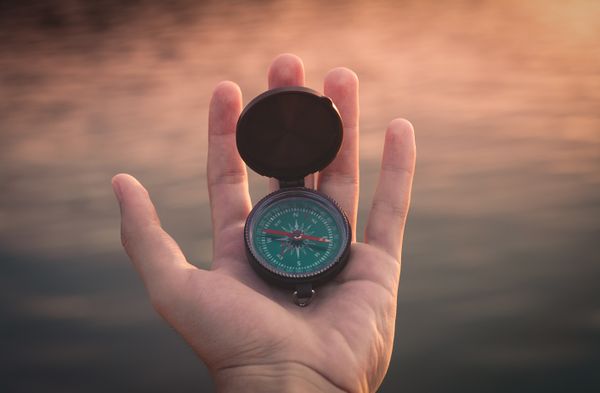 Choosing the right language partner can be a daunting challenge. How do you pick the right one when looking at hundreds of Language Service Providers (LSPs) out there? Each seems to have its own twist on the same fundamental service – so which one is best matched to your business?
One factor that will be foundational to your successful global growth is the transparency provided by your language partner.
If working in the most efficient way, your LSP will provide meaningful details on the inner workings of the work related to your projects. This will help you ensure things are run with your priorities in mind.
Transparency should be prioritized as a core value of your successful partnership.
Here are five questions to ask your language partner – each illuminating an aspect of transparency that matters to how your work will be done, and each also pointing toward how well an LSP will be able to meet your global goals:
Who are my translators?
How do I know my translators are the best for the job?
How do translators view the LSP?
What are my metrics around cost, quality, and turnaround time?
How is Machine Translation (MT) positioned within the organization?
Who are my translators?

This may seem like an easy question, and hopefully, for your LSP, it is. The translators are those who you are trusting with developing your content and brand in each new international market that you target.
However, many LSPs have built a business out of simply serving as a middleman or layer between you and your translators. LSPs that add less value tend to think that if the customer knows the translators, they may question the need and use of the layer in between. So, a superior LSP has to move beyond simply being a pass-through layer, and focus on delivering value to you, the customer.
While project managers can help facilitate smooth communication, it usually makes sense to also include the translators who are actually doing the work in critical communications, rather than hide their identities.
Some LSPs subcontract out to additional contractors, who then own and manage the relationship with the translators who remain hidden and obscured. These additional management layers carry costs and slow down the implementation of corrective feedback. Asking who your translators are is an easy way to understand what kind of layers stand between your translators and you. Knowing who they are, also means you can control quality and outcomes in a much more direct and simple way, avoiding the potential miscommunication that can happen when human chains pass messages back and forth.
How do you know my translators are the best for the job?
It is important to understand that LSPs match you with translators from the same fundamental resource pool as other LSPs. With that in mind, it is fair to ask your LSP: How do you know I am getting the best translators for my content?
An approach that combines the best of technology and human input is what's called for. One such example is called T-Rank.
T-Rank™ analyzes the characteristics of each incoming project and then matches the best translator for the task based on over 30 factors, such as quality and timeliness of previous jobs, daily turnaround, area of expertise, the content of the document, and more. The result of this analysis is a ranking of translators, where the first one is statistically the best for translating that project.
T-Rank™ helps us find the perfect translator
for every job, and continuously manage and update our community of +200,000 reliable and vetted linguists.
T-Rank™ learns from all feedback provided by translators, Project Managers, and clients and is used to support the decision for making the right choice. In this model, Project Managers always have the last say in the choice of translators; if they reject T-Rank's suggestion, this feedback is recorded and the system will make a better choice in the future. The same occurs after the translation is delivered, when the Project Manager and reviser provide professionalism and quality scores, as well as the score given by the customer on their overall satisfaction.
How do translators view the LSP?
Freelance translators make up the backbone of the translation industry, and these translators will often work with multiple LSPs. In the spirit of transparency, it is important to know how your LSP is perceived by its translators. When a translator ranks an LSP highly around their translation work-related interactions, there is reason to believe that the work output from that LSP will be superior.
Sites like ProZ's Blueboard allow translators to rank agencies based on their likelihood to work with each agency again. Asking your LSP about their score could offer insight into the relationship between the LSP and its translators.
Another site that provides ratings for some LSPs has a much more comprehensive evaluation and rating system. The following is a rating summary taken in April 2023:

The Fairwork/Oxford Internet Institute who produced the ratings shown above, consider many aspects of gig work including those shown below: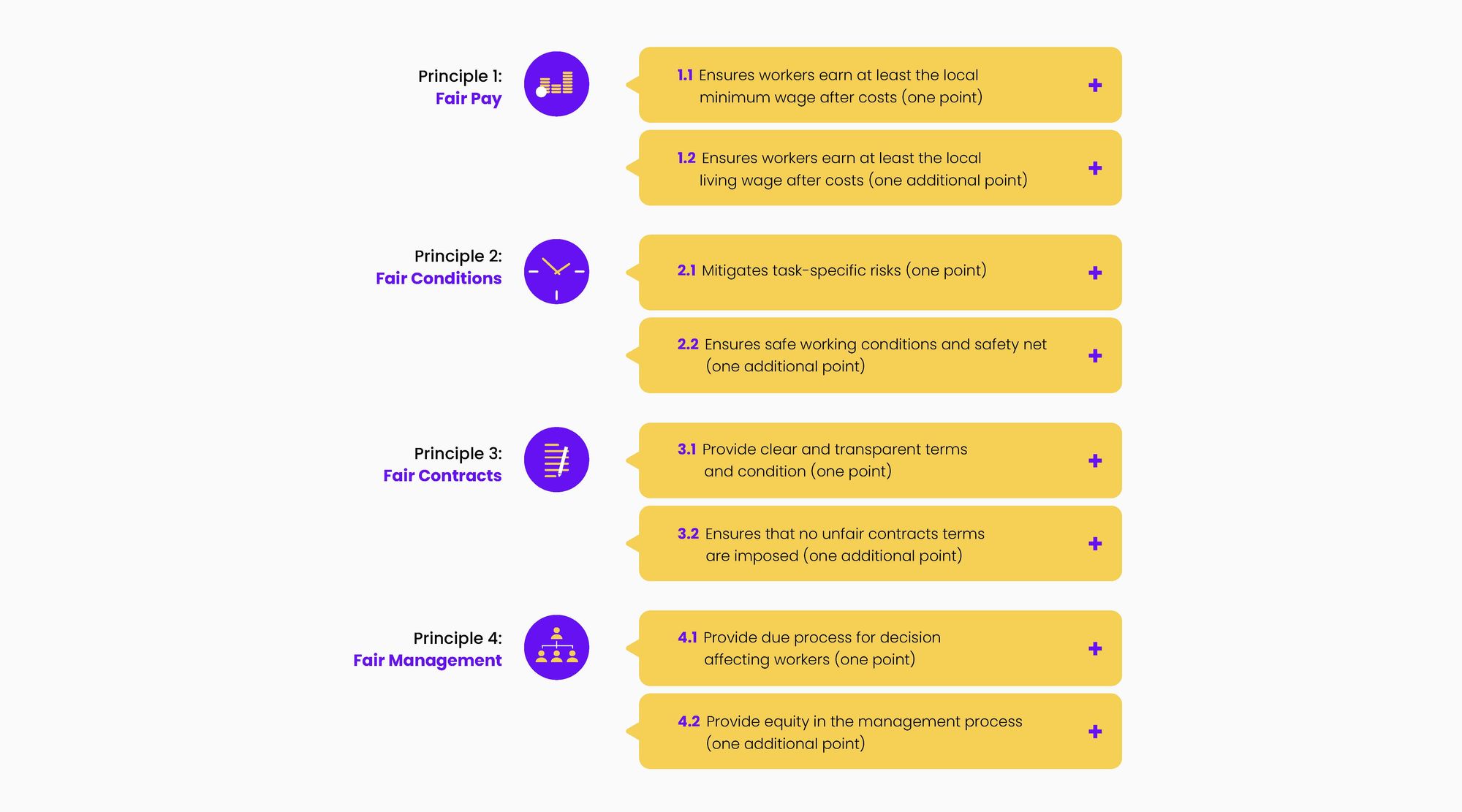 Those who score highly tend to create frictionless environments for their translators – and they likely pay their translators well. With the right conditions in place for long-term collaboration, translators are more likely to stick with an LSP, which means they are more likely to stick to your particular projects. Consistency and expertise in your translators create the conditions for positive outcomes.
What are my metrics around cost, quality, and turnaround time?
Key Performance Analytics on the work being done by the LSP should be served to you by default. This provides useful information that can be shown to stakeholders to build confidence in the process and the LSP partnership. Many LSPs lead with messaging around being data-driven, and there is always the ability to create a demo dashboard of numbers to be shown during a sales process.
But, you will need to know rather quickly if you can be served the data to make decisions or not. By default, you should have useful analytics on the big three – quality, cost, and turnaround time. Of the three, quality is something that not all LSPs are prepared to measure, but you need to be able to track improvement over time.
From the first project onward, even at the pilot stage, you should be ensuring that the performance analytics served do meet your needs. It will be impossible to identify areas of strength, or those requiring improvement, without proper data to make those decisions.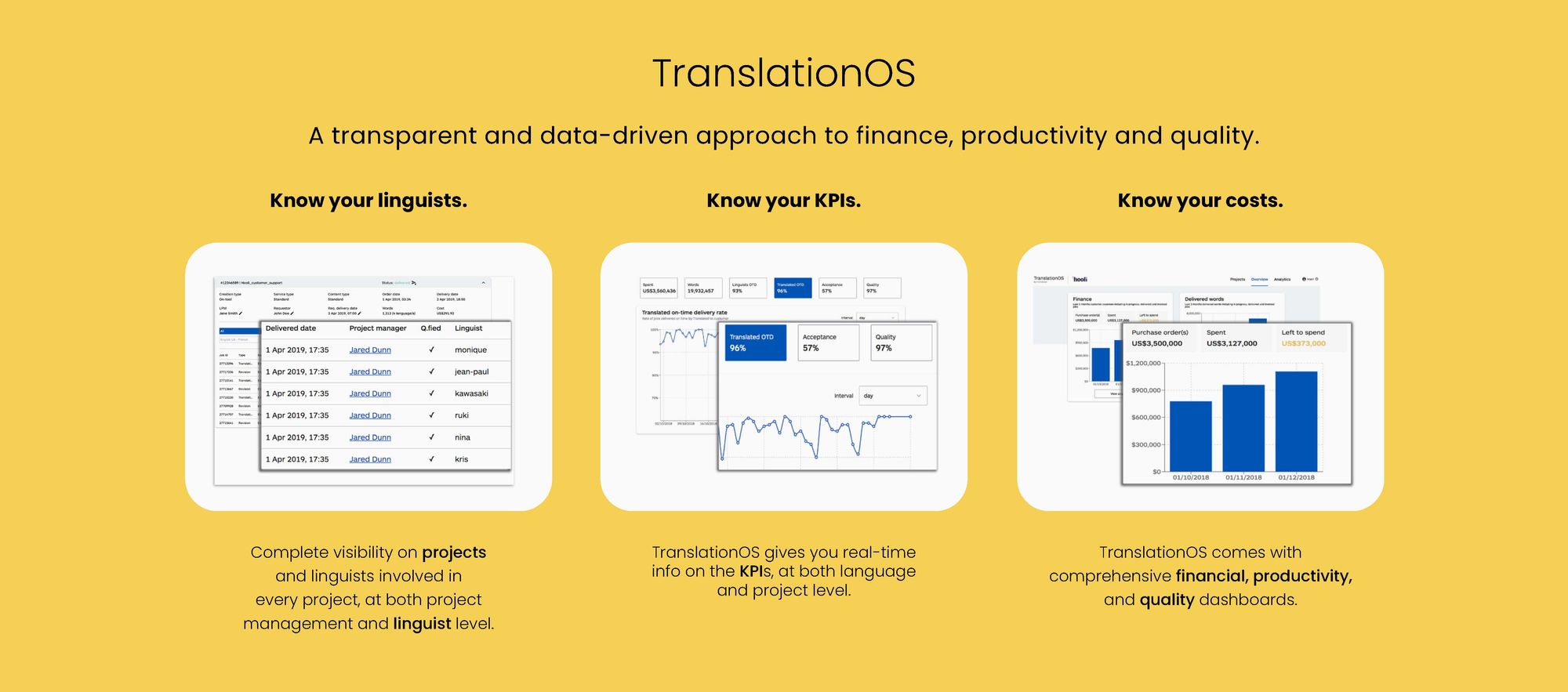 How is Machine Translation (MT) positioned within the organization?
Is your LSP open about how MT is currently used? Is your LSP open about how its MT use will be changing in the future? Does your LSP have a plan?
Many LSPs have spent years viewing MT as a threat, and they do not have functional expertise in its effective use. A Common Sense Advisory survey in 2021 revealed that the production use of MT amongst a representative LSP sample (N=170) is still very low, mostly because of a lack of expertise and predictability in production use: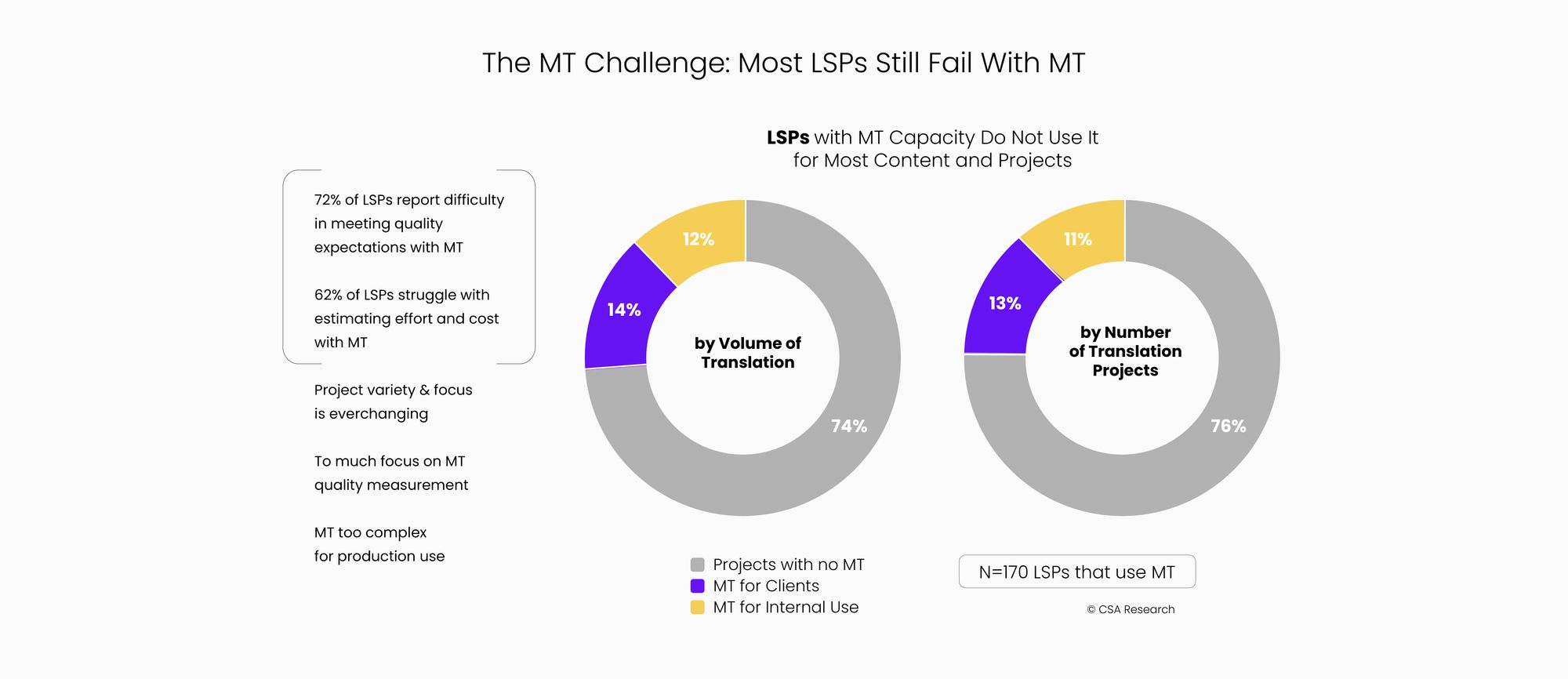 To use MT successfully requires deep expertise. Translated has developed long-term experience and competence with MT and is recognized as one of the leaders in using MT for Enterprise translation purposes. The competence that Translated possesses with MT is also a reflection of their overall competence with AI technology in general.
Our industry has seen massive advancements in MT over the last several years. Current research points to increased quality output when the role of the linguist is elevated within the process. The more quickly an MT engine can learn from a linguist's edit, the better the output that MT can provide.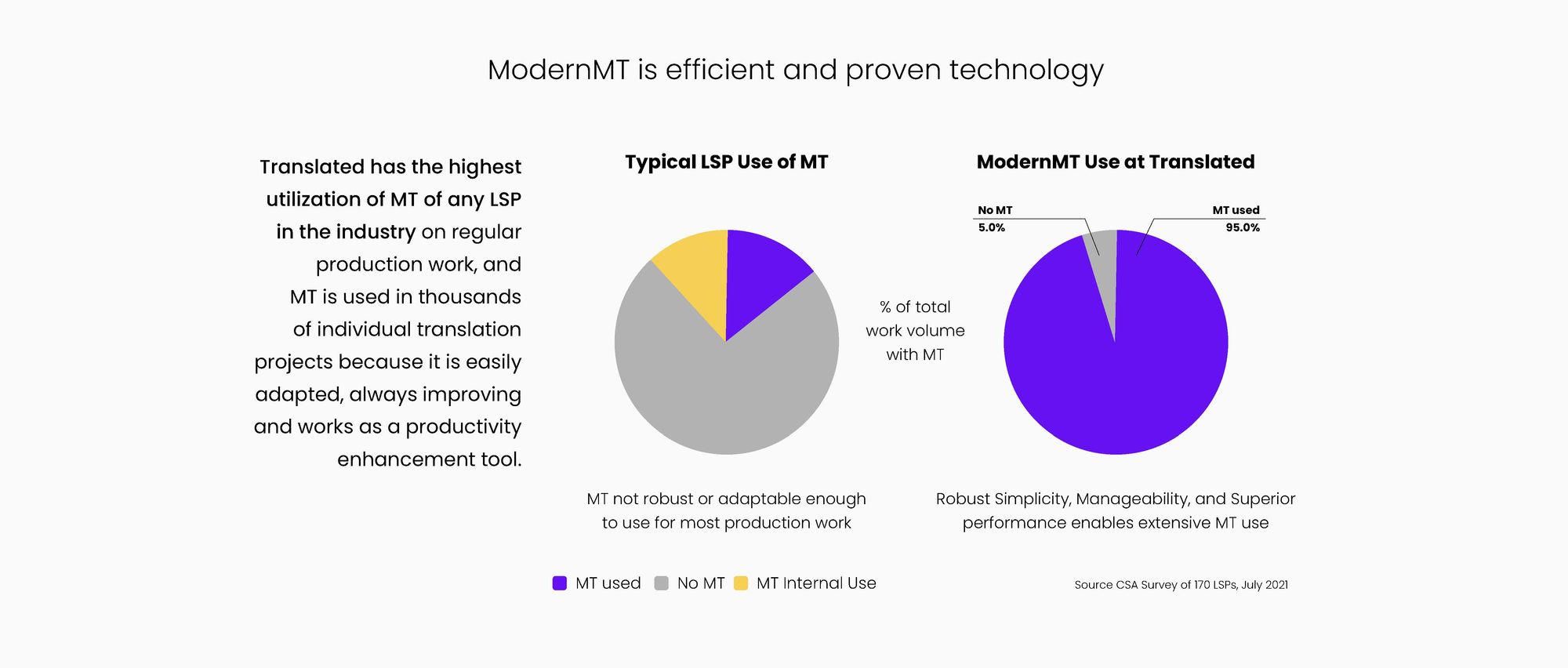 Your content should reflect your preferences. As adaptive machine translation becomes more useful across more varied types of content, you will increasingly want your content to learn from your stylistic preferences, and to apply them in similar contexts.
MT is a tool. Like a hammer, it can be wielded by beginners and professionals alike – with varying results. Your partner's outlook on MT will reveal a great deal about their preparation for the present and future.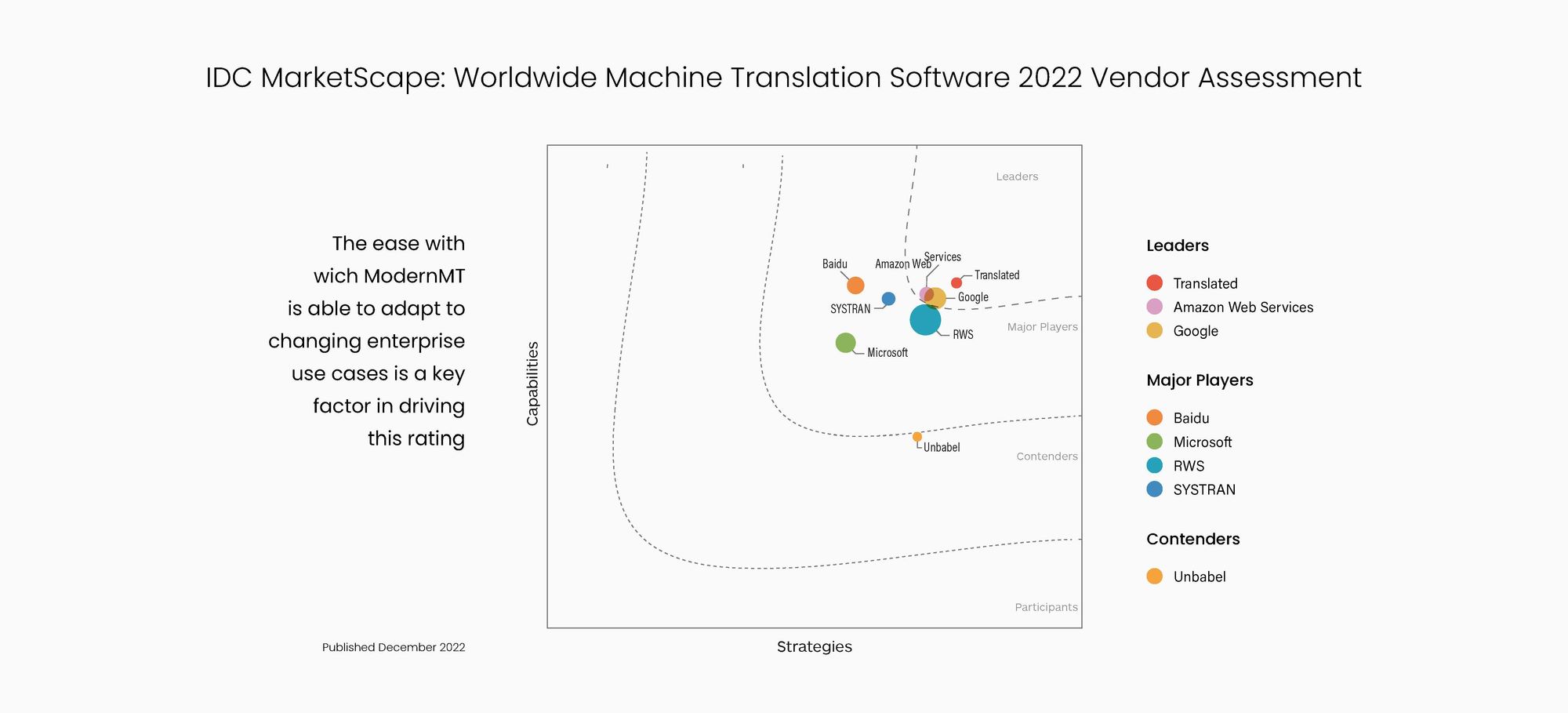 If you can answer these five questions with your LSP, you will understand the LSPs commitment not just to transparency, but to innovating on your behalf. With a partner who is looking out for your best interests in global markets, your growth can blossom to its full potential.
About the author
Tom Wicker has been in localization sales for nine years. His background includes translation software, translation services, and international expansion strategy. He is passionate about global growth and loves to travel from his home base of Denver, Colorado. When he isn't working, you can probably find Tom on a mountain trail, on a ski slope, or deep into a book.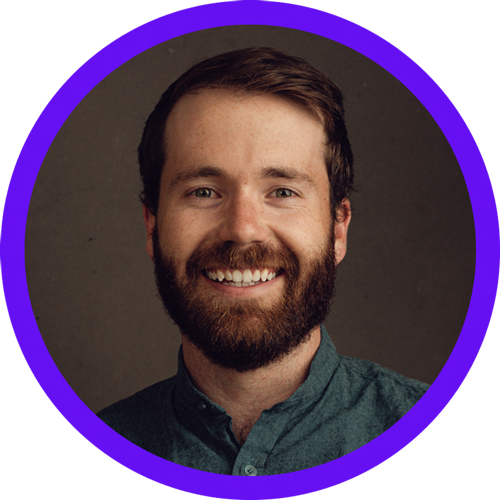 ---
‌‌

‌
ModernMT is a product by Translated.